Back
About Us
The New Bund – a new international city center
Whether it's in Paris' La Defense, London's Canary Wharf, New York's Battery Park or Tokyo's Shinjuku, each metropolis has its own international new-center.
Shanghai's new-center, New Bund, a unique, ever-changing new international city center is coming very soon!

The New Bund is one of the 6 key development projects in Shanghai, to establish an ecological, integrated urban community and focused on developing three core features: business headquarters, culture & media, and sports & leisure. Development ranging from single office building to residence, living and business building, while creating a highly cosmopolitan living environment.

The New Bund fully benefits from its Riverside's ecological area, creating urban & nature integrated green cities. To create an ecological and natural atmosphere, about 100 hectares, 35% of space is covered by public green area.

New Bund has established its own international schools, international hospitals, public schools, private schools, international church, international arts performing center, international sports center, cultural facilities; focused on the concepts "green, integrated and international", providing the ultimate diverse and spatial experience between work & life, city & nature, travel & leisure.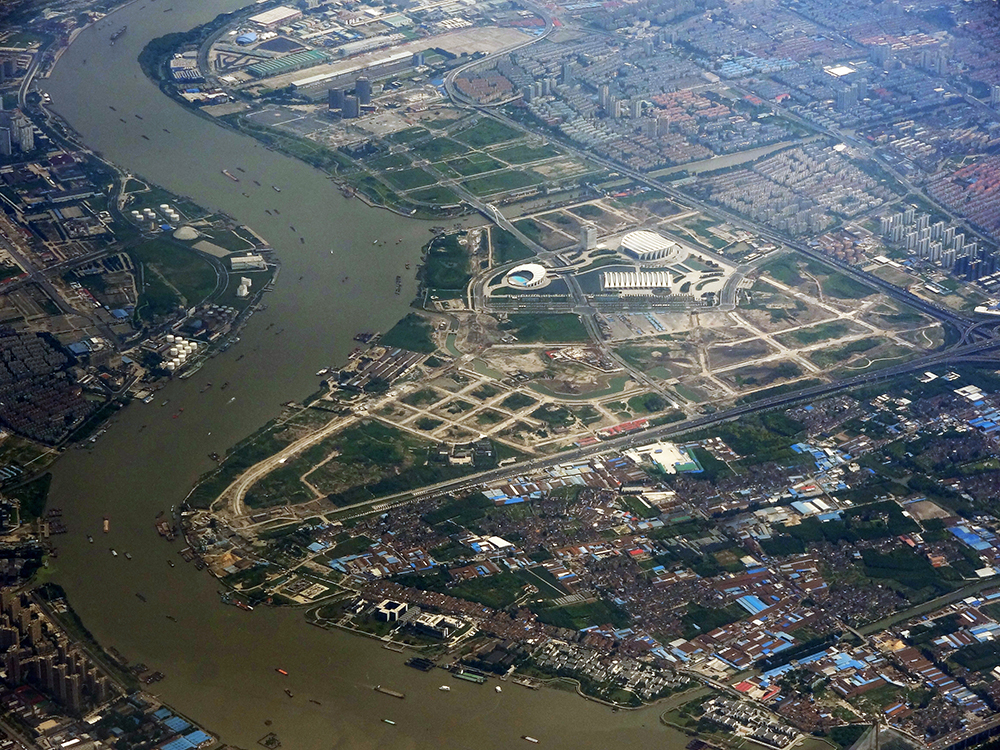 Visiting the New Bund
The New Bund International Business District, excellent location, convenient transportation,
With the Middle Ring Road, North-South highway and three metro lines, easily access to the city center.


Shanghai New Bund Business Investment Group Ltd.
Shanghai New Bund Business Investment Group Ltd ("New Bund Company") is directly invested and controlled by Shanghai Lujiazui Group Ltd (one of the four main Pudong New District real estate development companies).
After Lujiazui Group's successful development & construction of Lujiazui Finance and Trade Zone in Pudong, they have started their "Second Pioneering" under the New Bund Company with the great task to setup & build the New Bund.

The New Bund Company is responsible for the main and secondary development and construction task of the New Bund international business district covering 2.83 square kilometers. The New Bund business district is one of the six key-developing areas from the "12th Five-Year Plan", which after 5 to 10 years, will become the headquarter center of business, culture, media, sports and leisure integrated, forming a world-class business district providing a complex, three-dimensional, ecological and residential-friendly new city center, becoming a recognized new landmark within Shanghai's Lujiazui.

The Shanghai Municipal People's Government has formally approved the New Bund's establishment proposal in August 4th, 2012. The region road network and basic municipal infrastructure construction has been completed only after few years of rapid construction, while the Wellington International School has been completed and has already started its first semester.
In addition, the New Bund will also join hands with Tishman Speyer, Hong Kong Real Estate Group and a number of world-class real estate developers, to work on the New Bund core district, while a large number of A-Class office buildings are being built consecutively.
The New Bund is currently undergoing an "Ultrafast" development pace that aims towards "forming within 3 years, functional within 5 years and completion within 10 years".


Shanghai Lujiazui (Group) Co., Ltd.
Shanghai Lujiazui (Group) Co., Ltd. is one of the real estate enterprises that has been officialy approved and greatly supported by the Shanghai Municipal People's Government. It has also been named as China's only "Finance & Trade Development Zone" --- Lujiazui Finance and Trade Zone of Urban Development.

Since its founding in 1990, Lujiazui Group has been committed to the land development and the development of urban functions Lujiazui Financial City, including small Lujiazui area, Zhu Yuan commercial district, Lujiazui Software Park, Century Avenue, the New International Expo Center and other core functional areas. And has completed the "Seven-Level" infrastructure investment and construction, such as the Century Avenue, Pudong Riverside Avenue, Lujiazui Central Green, two-floor pedestrian corridor and other major municipal infrastructure. After 20 years of hard work, Lujiazui Group has been upholding its core values of "responsibility, integrity, long-vision, innovative, refinement and win-win". Together with its business ethics of "brave leadership, innovation, good governance and pursuit of excellence", Lujiazui Group has made a great contribution to the develoment of the internationally recognized Shanghai Lujiazui Finance & Trade Zone.

During recent years, under the new strategy "innovative transformation development", Lujiazui Group is also actively implementing core business strategies, innovation and business models, to gradually become a strategic invesment company for central city development, commercial real estate, financial investment and more.

For more information please visit: http://www.ljz.com.cn/